21 Sep
This is a guest post written by past guests, Christine and Keith Thomas, who booked through one of our GI Vacation Consultants, Jan Busse. Thank you to Christine and Keith for sharing your story and traveler tips with us! Book with one of our preferred GI Vacation Consultants by visiting our website.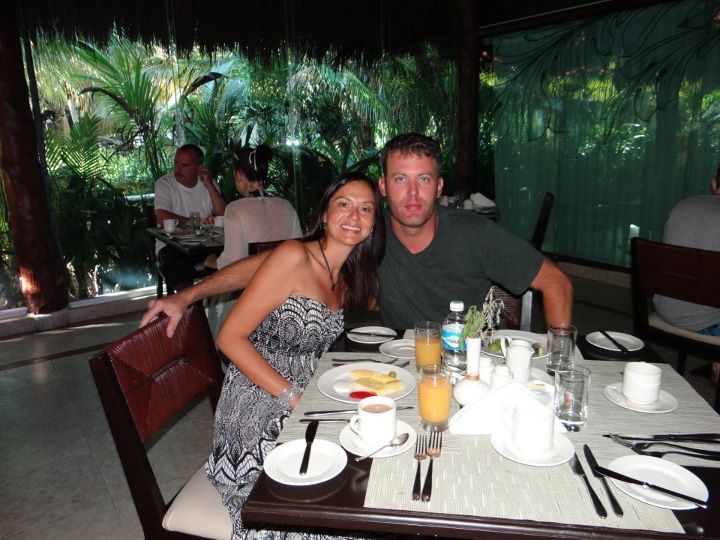 My husband and I spent five days at the beautiful El Dorado Seaside Suites, by Karisma in July.  Our GI Vacation Consultant, Jan Busse secured us a free double upgrade to one of the swim up suites, which was amazing!  We spent a lot of time just lounging outside of our room and taking in the beautiful scenery.
The property, service, food and spa exceeded all of our expectations!
The Food: All of the food was exceptional, but I would have to say the Italian restaurant topped our list.  I had the tomato soup and beef tenderloin which was absolutely amazing.
The Spa: I have been to a lot of luxury spas in my day and I would have to say the Naay Spa tops my list.  My husband and I enjoyed a 90 minute moonlight couples massage on the beach.  Before being escorted to the beach, we spent 45 minutes in the spa enjoying the eucalyptus steam room, sauna and tropical shower.  Everything about this experience was perfect…tranquility at its finest!
The Property: Perfectly maintained – there was not one coconut out of place.  The gardeners were on spot 24/7 – the beaches were groomed and the ash trays were always cleaned and stamped.  There were plenty of beach beds for everyone so there is no need to wake up at the crack of dawn to secure a spot.
The Service: Second to none!  The staff was on extremely accommodating.   We had a personal concierge outside of our suite to help with anything we needed.  Housekeeping was also great.  We always left her an extra tip each day for going above and beyond our expectations.  In return, she left us cute little towel animals and a hot Jacuzzi filled with bubbles and fresh flowers!  I must also mention that the bath products were wonderful!  The entire resort smelled of aromatherapy from the lobby to the rooms.
The Location:  The resort is about an hour and fifteen minutes away from the Cancun airport.  A small price to pay if you enjoy a slower pace.  From what I have seen during my times in the Mayan Rivera is the crowds seems to get lighter the further down the coast you go.  Cancun and Playa Del Carmen are a little too fast paced for us but we do enjoy taking a day trip to PDC for some lively shopping.
Exploration Tip: Another great day trip is to Akumal – Half Moon Bay for the best snorkeling around!  It's a must on our list every time when we visit the area.  There is a restaurant right on the beach called La Buena Vida.  They have the best pina colada's and freshest ceviche in Mexico!